So the news is good today....
1)
How the War was Won
(Part one)

2) Former Iraqi insurgents kill 18 AQI terrorists

3)
Anti-war movies tank at the box office
On that latter subject.....
I strolled into the living room earlier, where my wife was knitting and watching one of the Austin Powers movies that was playing on the cable channel
E!
The movie went to break and there was an ad for a show on the channel about Robert Redford's boring and
poorly reviewed
new film, Lions for Lambs.
The best part? The show was being sponsored by
IHOP'
s new special dish....

'
Pancake Surrender
'

.....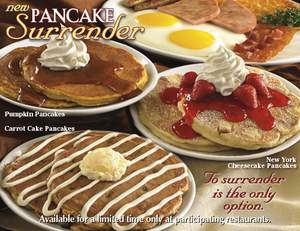 You can't make this stuff up.....

"

To surrender is the only option

" I wonder if IHOP will cater the Democratic National Convention next year?

Mr Redford, what type of syrup would you like with your order of surrender? Ironic Boysenberry, or Pompous Pecan, or Melodramatic Maple?